1. Fill out the Spec Sheet Change Form - attached below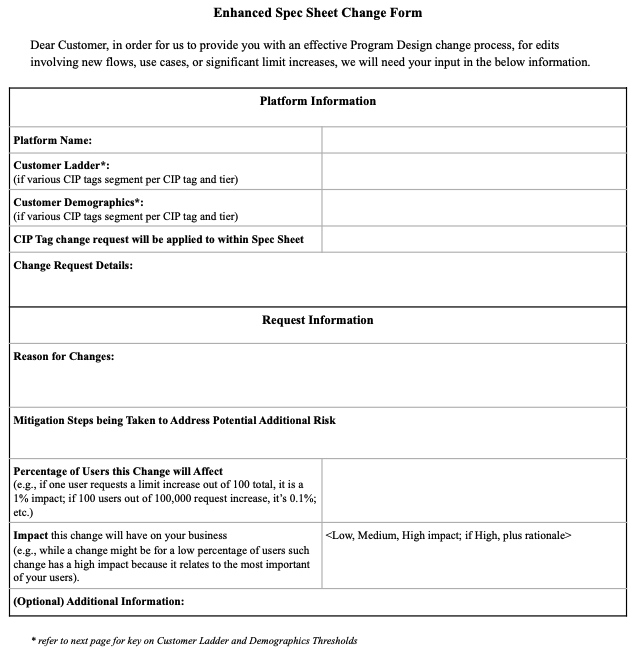 -Platform name
-Customer Ladder* Information about your ladder can be found at the bottom of the page
-Customer Demographics* Information about your demographics can be found at the bottom of the page
-CIP Tag change request will be applied within Spec Sheet
What CIP tag(s) will be affected by this request:
-Change Request Details
Specify the changes that will affect the CIP tag(s):
- Ex. Increase the daily limit for IC-DEPOSIT-US → ACH-US from $$$ → $$$$
-Reason for Changes
Explain why you are requesting the change.
-Mitigation Steps being Taken to Address Potential Additional Risk
Explain what you have done to mitigate the risks involved with the change request.
-Percentage of Users this Change will Affect
(e.g., if one user requests a limit increase out of 100 total, it is a 1% impact; if 100 users out of 100,000 request an increase, it's 0.1%; etc.)
-Impact this change will have on your business.
(e.g., while a change might be for a low percentage of users, such change has a high impact because it relates to the most important of your users).
Low, Medium, or High Impact; if High, provide the rationale.
-(Optional) Additional Information
Any information you would like to provide would help clarify the request!
2. Submit a ticket to help@synapsefi.com for a Spec Sheet Change Request to be reviewed by our team